Mira Pro x64 Software
Mira® MX x64™ is a native 64-bit Windows image processing application which leverages the memory and speed advantages of the 64-bit Windows operating system for processing very large images. It provides exceptional tools for quantitative image calibration and processing, visualization, analysis, and measurement with a powerful programming extension language for scripting, algorithm development, simulation, and other computational needs.
Application areas: Product engineering, testing, and quality assurance, microscopy, biomedical research, computational biology, radiography, image & data exploitation, physics, materials science, nanotechnology, reconnaissance, and other critical applications.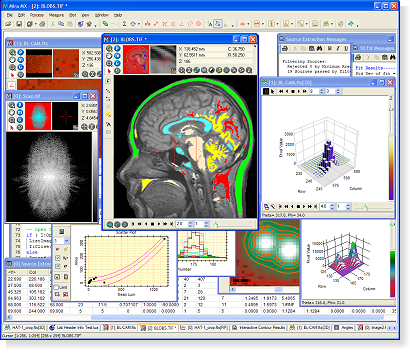 Mira Pro x64 showing 1, 2, and 3-D visualization, analysis, scripting, and measurements.
Mira Pro x64 defines the state of the art in image processing software, with the ability to display, analyze, plot, process, and measure images and image sets having integer, real, or integer and real format color.
Mira Pro x64 significantly raises the standard for scientific image and data analysis software. The Mira GUI provides an unmatched number of powerful tools at your fingertips while being designed to be intuitive. To this, we added our Scripting module to provide a tremendously rich, yet intuitive environment for scripted and specialized tasks that are simple, complex, or anything between, from low level functions to our powerful high level processing tools, and with or without the integrated GUI. The speed, power, and easy-to-master elegance of the Lua language combined with more than 600 class methods and functions provide unparalleled performance. It's both fast to learn and fast to execute.
Mira Pro x64 includes the MX Script language, a versatile 1-d Data Fitting package, an extensive collection of image calibration, filtering, and processing tools, precision image registration, automated processing of image stacks, unparalleled animation and comparison of images and plot data, plus a rich suite of image quantification tools.
One year of maintenance is included; after one year, discounted annual maintenance is available to provide tech support and keep your software current.
Key Features
Mira's outstanding GUI puts advanced tools where you expect them, freeing you to think about science, not using software.
Feature-rich, fast, and easy to use scripting language, including our powerful File Event Scripting capability.
Superior visualization and analysis tools.
Realize complex data analysis strategies using intuitive procedures.
Measure exact coordinates, distance, angles, FWHM, area, statistics, polygon properties, etc. in image units and physical (world) coordinates.
Work with TIFF, FITS, BMP, JPG, and other image formats using binary data, numeric data of 8 to 64 bits, and RGB data of 24 to 48 bits.
Developed with scientists & engineers in the field to work the way you think about processes and procedures.
Optimized graphics and fast numeric processing help boost productivity.
Mira Pro x64 does not use a dongle or a network-locked license that can limit your productivity.
User Comments
"...one click calibration... Its wonderful!... the procedure-method-source file approach is brilliant."
— Dr. David Erickson, Senior Scientist in optics R&D.
"...[Mira] is the most intuitive piece of software I've ever used. Excellent interface all around. I can tell you put some thought into the functionality & navigation of the package."
— Chris Sauer, Development Manager, Software Industry
Related Topics
Custom processing using scripts
Automated extraction of image features & properties

Related Products:
More Information
Requirements
64-bit Windows x64 Operating System in version 7, 8, or 10, or a 100% compatible Windows environment on Linux or Mac.
Hard Drive Space: 70 MB, including sample images and scripts.
Minimum Platform: Windows

®

7x64, 16 GB RAM.