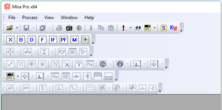 Starting Mira the first time, the main toolbars appear stacked along the top window frame as shown above.

Best use of screen space usually means moving 3 or 4 of the toolbars to a vertical docking location on the left or right window frame. To re-position the toolbars, drag them using their "grip", as circled in yellow in the picture at left.
When dragging the toolbar, its shape will change from horizontal to vertical as you near a vertical edge of the Mira window frame. Accurately positioning the toolbar at its new dock location sometimes requires releasing the toolbar near its final destination, then grabbing the grip again to complete the fine positioning.
The screenshot below shows Mira Pro x64 after 4 of the toolbars are re-positioned along the left edge. Note that Mira Pro x64 has 5 main toolbars (6 main toolbars, starting with in version 8.032). In this example, the Main toolbar (open, save, etc.) and the Docking Panes toolbar remain at the top of the window frame beneath beside the menus.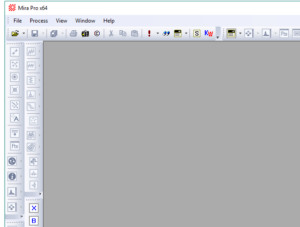 When you close Mira, the toolbar locations are saved for next time.