3-D Graphics in Mira Pro and Mira MX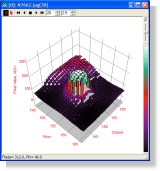 This Brief shows the 3-D capabilities available with Mira MX and Mira Pro Ultimate Editions.
The diagram below describes components of the 3D Plot window in Mira Pro x64 and Mira MX x64. When a single image is plotted, as opposed to a multi-image set, the Animation Control Toolbar is not visible. In ordinary Mira Pro and Mira MX, only 1 image can be rendered per 3-D window).